Excelerate SPANISH Receiving Positive Attention in TOS Homeschool Magazine
Be sure not to miss the 2014 Annual Print Edition of The Old Schoolhouse Magazine!  It's a wealth of information for your homeschool- whether you're a newbie or a veteran.  This incredibly packed issue features articles covering tons of homeschool needs, including everything from how to start mid-year to how to teach your children Spanish at home!
Especially exciting is veteran homeschooler Marji McIlvaine's article "Teaching Foreign Language:  You Can Do It!"  You'll be encouraged and inspired as you glean from Marji's 25+ years of experience teaching multiple foreign languages to homeschool students, and you'll learn how Excelerate SPANISH addresses a critical need of the homeschool community.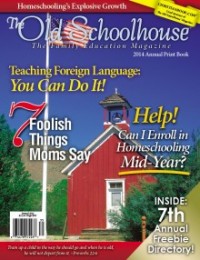 Order your copy now, and enjoy a year's worth of support in over 275 full-color pages at a phenomenal price.  It's a treat you deserve, and a valuable resource you'll come back to again and again.  Click here to learn more and place your order today!
Disclosure:  This post contains affiliate links.